Business Baggage – Is technology complexity holding your business back?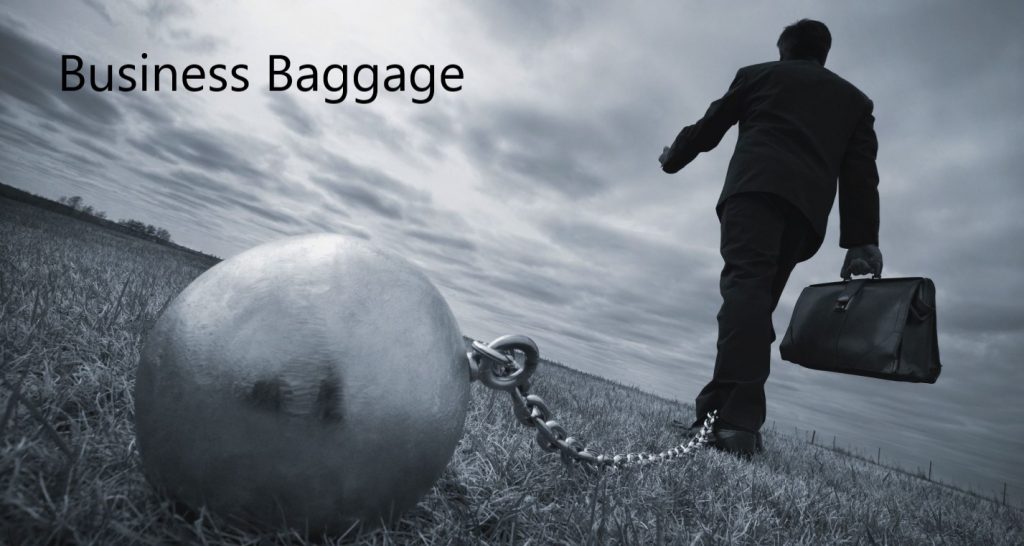 Working in the Solution Architecture space, our architects increasingly deal with complex business processes and correspondingly, complex technology solutions. However, is this increase in complexity holding your business back?
A key observation that we see frequently is the lack of willingness to challenge the business process complexity. The business, architects, and vendors take on the challenge of introducing a complex technology solution in response to the business problem too quickly before understanding, exploring and challenging the reason for the existence of the complexity in the first place.
I acknowledge that business solutions can get extremely complex. In some regulated industries, such as finance and energy, the complexity constraints are imposed on businesses and often they have no alternative but to respond with a complex solution. In most situations, the business has sufficient control around the processes they implement. This is where I believe we make the biggest impact by simplifying the underlying business process and technology solutions. Complexities need to be evaluated from a Total Cost of Ownership (TCO) and the impacts to the overall business and its strategy.
Let's explore a couple of examples of how complexity can impact the end strategy:
Example 1 – "My business is unique, we are special!"
Recently, I was having a discussion with a client who was implementing a very niche solution to address a regulatory requirement. The solution was purely addressing a regulatory need similar to other organisations in the same space. The solution was not adding any competitive advantage, and my question was if the other organisations can use a proven technology that has been in the market for the same set of regulatory requirements, what is the business value in deviating from that and introducing new complexities and risks to your organisation? The response I received was 'we need to ensure the solution works for our unique requirements'. This sounds reasonable, however, I was challenging them to check and test their requirements and business processes to ensure there's a valid reason before responding with a complex solution. If all the other organisations can leverage a market-proven solution for a non-competitive business need, why can't you? What makes you special? Is it valid?
Back when Victoria implemented the myki solution for our public transport system, there were questions asked around why we developed an expensive, customised solution from scratch. There were proven systems such as the UK Oyster card system or other metro systems from Japan or Hong Kong that were readily available for less. One of the reasons flagged was our unique three zone system and local complexities. Instead of challenging our existing business processes, we spent three times the cost of implementing myki. Did implementing a complex solution to our unique transport needs give us a better outcome than challenging the status quo and potentially implementing a simpler solution?
Example 2 – CPQ Solutions
Configure, Price and Quote (CPQ) solutions are heavily used in industries such as logistics, insurance and airline travel. CPQ solutions can become extremely complex and expensive to implement. Over the years, I have seen very complex pricing, bundling, cross-subsidizing models and implementations that have questionable business value.
A complex CPQ implementation has a cost to the business, the total cost of owning and running the solution will have to be borne by products and services the organisation is selling. Fundamentally, does the added overhead cost to the products and services with the CPQ process and solution itself align to the business strategy?
The strategy can be very different between organisations:
Being Competitive – If being competitive is the end goal, does the overhead added to the pricing justify the cost? Can a competitor adopt a far simpler cost model and solution, such as a flat pricing model and be more competitive as they have a lower overhead?
Customer Experience – If the end goal is to offer a better customer experience by allowing the customer to configure their products and services to suit their needs, does this approach ultimately gain more customers in spite of the added cost?
Confusing the Customer – Yes, this is a strategy. Some CPQ solutions are designed to allow easy entry for a customer as the true cost of the product or service is hidden or strung along behind the complex model on purpose. Does the percentage of unhappy customers vs the new customers gained worth the cost of the solution?

Ultimately, if the complexity of the CPQ solution is justified and aligned against the end business strategy, it's a conscious choice made by the organisation understanding the end result. However, some organisations do not explore this thoroughly enough and get caught up with the product vendor's hype or can end up blindly responding to a competitor's move. If we are implementing a complex solution for the right reasons, it should typically be a solution for the systems of innovation or differentiation category rather than systems of record.
How do we minimise business process and solution complexity?
A little while back, I was reading a great book about leadership called "Start with Why" from Simon Sinek. Even though the context of this book is slightly different, the approach and thinking is valid for this scenario. Don't be afraid to start asking 'Why' around business process complexities. Every process and functional requirement should be scrutinised and questioned to ensure it is done for the right outcome and end strategy. This is where capturing the requirements and problem definition phase is crucial.
For me, a good business analyst is someone who challenges the business requirements and ensures you ask the hard questions, not just someone who documents the business requirements. In some cases, the business analysts assume the business understands the impacts of the requirements and processes. This becomes more difficult when the business analysts are external to the organisation or from the IT department and they lack the confidence to challenge the business.
Capturing end goals as requirements rather than prescribed functional tasks will also help tease out the process and requirements before going into a solution mindset. A good Solution Architect would then work with the business analysts and stakeholders to further validate and test it by defining a clear problem statement and success criteria around it.
Complex digital transformations are happening across many organisations today with millions of dollars spent on their business transformation journeys. In order to make the best out of these transformations, it is essential that all processes are questioned and scrutinised before digitising them. This will help leave behind complexities that existed in the old world that you do not need in the new world. This is the time to take the opportunity to reduce the complexities that hinder your business agility and future adaptability.
A complex solution introduces 'complexity baggage' to the business and technology landscape. In most cases when you invest into a complex solution, it is hard to move away from it easily as you end up with a more complex technology ecosystem, sunken costs, set expectations and a whole range of knock-on impacts. Reducing solution complexity is another area that needs focus when architecting your business for agility. In essence, every time we solve a business need with a complex solution, we make the business less agile and nimble for changes. This is not an ideal position for any businesses today who are struggling to be competitive and relevant in a fast-evolving world.