Have you architected your modern contact centre correctly?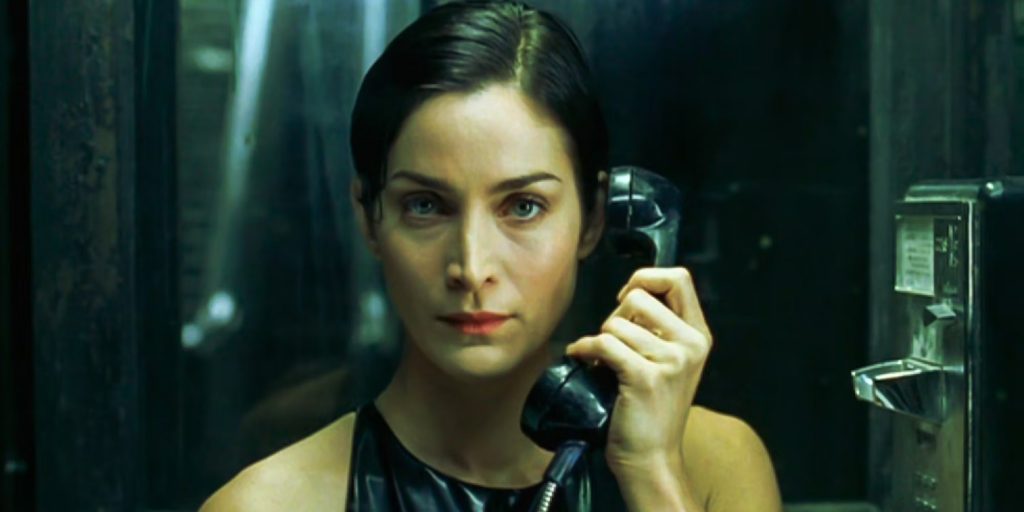 Are your customers stuck in the matrix?
Remote customer engagement is the new black
The post covid world is emerging strong and businesses have realized the imperative to improve employee's and customer's experience.

The glorious era of working from home has been driving expectations for services and products to come to us: less efforts for customers. This uncovers the absolute need for adequate reachability. Effective remote communication will ensure business continuity and anchor customer growth. Long waiting lines at the customer desk have shifted to the comfort of our couch while we pray for that "Your call is important to us, please hold…" to be as quick as liking an Instagram post (50% of callers abandon the call after 45 seconds of waiting).

That sense of "being seen and considered" as a valued employee/customer is now practiced remotely with limited personal touch. We want to be heard and considered especially when we have (or will) spend some money. How do you therefore translate empathy and care within remote communication?

That last mile has become the string that connects clients, customers, staff members and suppliers. Welcome to the superb era of digital CX; the nerdy term to define how your business engages with your employees and customers. The quality of these interactions, how easy, personal, and enjoyable they are, will generate trust and fidelity or frustration and disappointment.

Traditional employee or customer interactions were basically dictated by businesses, either by phone "call us on 1800 we love you" or by emails: "email us at support@wecare.com". On the opposite now, customers and employees expect businesses to speak their preferred languages rather than funnelling them into theirs. Being able to book or change a flight, raising an insurance claim through WhatsApp are not a nerdy thing anymore.

With the explosion of communication and platforms, and their rich capabilities, businesses became overwhelmed. Contact centre vendors have leveraged this confusion. They are preaching the engagement revolution with the adoption of multichannel, self-service, virtual agent, CRM integration, conversational AI and of course the divine analytics and data insights.

All these functions are now widely available thanks to the cloud ecosystem. Prior to cloud contact centres the complexity to configure, operate and maintain on-premises infrastructures to offer some of these functions required significant investments and operational expertise. Today most of these features come out of the box from Contact Centre As A Service (CCAAS) providers as simple and smart addons.
How do we get out of the Matrix?

Let's bring your customers back.
What is the modern contact centre?
The modern contact centre is:
Spaceless: cloud technology allows agents to login from anywhere with a decent internet connection. No more clunky VPN's and double media encryption or the need to be in a specific location to support your customers or employees. This enhances business capacity to provide 24/7 coverage across time zones.
Multi-channel: speak your customer's language. Welcoming the customer's preferred channel to initiate the conversation is key, this can be email, social media, webchat prompts from a webpage, or the good old voice call.
Self-service: customers don't have to wait anymore. Reports shows that 70% of customers use self-service channels to resolve their query. Offering ways to self-resolve your queries frees experts to focus on specific interactions as well as empowering your customers.
Elastic: This is the ability to spin up and down queues in one click thanks to a membership/usage cost model. New marketing initiatives, seasonal ramp up, new support lines, loss of business, etc. The ability to scale up and down without the concern of infrastructure impacts and dead cost is critical. Pay what you use, rather than paying for what you have.
Insightful: smarter interactions. Repeating your story or issue countless times at each step is exhausting and frustrating. With CRM and ticketing system integrations and pre/post call analytics, previous interactions insights are available automatically to your support teams. This is how you make it personal and enhance trust.
There are two sides of the Contact Centre Solution Architecture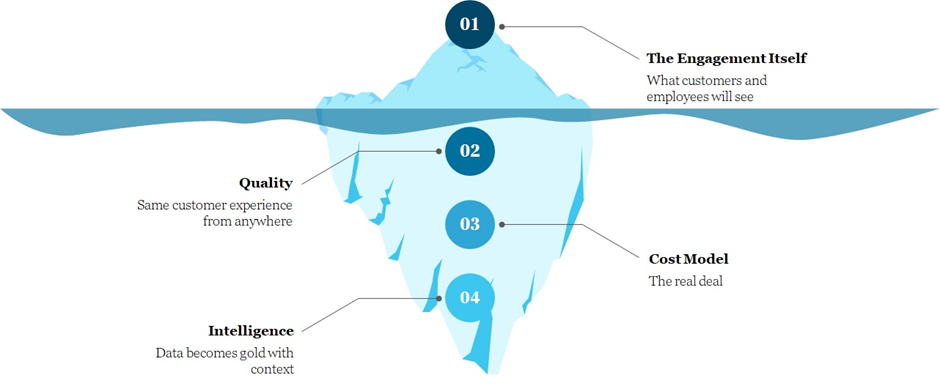 The visible side: the engagement itself
Listen. Keep in mind that upgrading your contact centre solution is offering new ways to engage with the business. You offer choice, not frustration. Know your audience, who is calling? Maybe you have a mix of impatient millennials who expect self-service and get frustrated by Beethoven's 5th symphony on hold music; or knowledge workers frustrated by quick reference guides and prefer to wait 9 mins 34 sec to speak to a specialist. Knowing your audience is key. Employees are easier to listen to than customers, but in general people will speak of their pain if you know how to listen.
Transparency. Introducing a virtual agent to guide your customers to online resources such as a knowledge base or to a 24/7 password reset biometric platform will pay off in the long term and will help you to get through surges of calls on the first day back in January; but make sure you keep the escalation to an agent possible.
Offering choice is key. The last thing you want is funnelling your customers into a channel of engagement. Choice and awareness will build trust. At the start of your interactive voice menu, offer choices: "press 1 to speak to an agent which might take few minutes" and "press 2 to have your password reset in less than 2 mins".
Small steps. Change fatigue is real. Virtual bot, webchat, self-service, CRM / ITSM integration, analytics. Go slow. Customer care staff as well as employees or customers will become overwhelmed. Progressively enabling features gradually allows proper tracking of value as well as training and change management.
The hidden side: the infrastructure
Cost model. Let's be up front: a cloud contact centre is not cheap, but the cost model is flexible. With traditional on-premises solutions there are infrastructure costs (compute, network, storage, and application) and feature/agent licensing costs (usually rigid one-off deals). This makes it difficult to recharge to a project, a business line, clients, or initiatives. We have seen many customers going down the cloud contact centre road without awareness of the cost model and ended up with a monthly bill that hurts deeply.
The advice here is to map out who is using your contact centre services, so you know who to send the bill to. A Cloud contact centre is more granular and hence allows to recharge some components:
Infrastructure costs: this includes hosting (compute, storage, and upgrades) and solution feature pack (standard, enterprise, extended). These are opex costs hard to recharge.
Usage costs: this depends on the vendors but generally charged per "interaction". Thanks to powerful reporting and analytics, this can be recharged to clients or a specific part of the business, in an "As A Service" fashion.
Agent licencing: this is usually subscription based (per agent/per month). This allows scalability up and down at a reduced cost pace. This is also easier to recharge as well as plan upfront costs.
Intelligence. Data becomes gold with context. Empowering your support teams with fresh and tailored insights is critical. To do this you integrate your clients' data with your contact centre platform or you add a communication stack on top of your client data solution. The broader enterprise architecture, understanding the data flow and leveraging API's or native connectors will help drive the ideal solution in this space. Recognising right at the start your customer or employee by prompting "we noticed that you have an existing claimed/ticket/query opened with us, is that the reason you are here?" will go a long way to create trust.
AI technologies can go even deeper with automatic transcript of recordings, keyword matching, sentiment analysis, and assist with high level of quality and compliance. Let's be honest who wants to answer a rigid 5 questions survey after a 10mins interaction? Clients expect this to be understood out of the interactions itself.
Quality. Choppy audio, background noise, connectivity dropouts will destroy your customer's patience. Working from home is great until kids are hammering the home internet with streaming HD, online gaming, or remote schooling. There are tools that can assess agent network quality, noise environment, laptops, and headsets performance prior to login into queues. Assessment like this will help to select which channel an agent can safely participate into (webchat and email only, or voice).
Where do I start?
If this article makes you wonder "How good is our contact centre?", don't hesitate to contact us. I have spent more than 20 years navigating communication technologies and the psychology behind it. We have first class unbiased communication and collaboration architects to help you walk this journey. From the value discovery phase to your future operating model, your needs will be considered with tailored suggestions that match your vision, not the vendors.
Conclusion
You can create brand loyalty by never making a mistake and wanting to be perfect! Good luck. Or you can create a long lasting trust by acknowledging that sometimes things can go wrong, and offering an authentic path to care and resolution. .
You don't have to do this alone. Show them how much you care.
Image credit: The Matrix Village Roadshow Pictures